Car rentals and shuttle service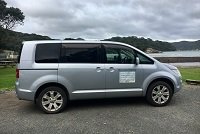 Book A Shuttle
We will deliver to or from the Wharf in Tryphena or the Airport in Claris.
We can also arrange shuttles to and from the walking track entrances or arrange pick up and drop off locations around the Island.
To arrange a shuttle or get a quote, call Skilly on 027 701 4142 or 09 4290 861 or send us a message. (Skilly doesn't get txt messages on his phone).
Shuttles are best arranged in advance.
Use this form to check avialability or book a vehicle.
or, if you prefer, just give us a call
Check Availability
or
Book Now
We will meet you at Claris Airfield or Tryphena Wharf on your arrival and you can drop the vehicle off again as you leave.